Marketers and brands use product placement or seeding to get their products in front of a wide audience to generate more attention (or even) sales.
For many brands, a product seeding, product placement or gifting strategy is often the first step in their influencer marketing journey as, for the most part, you need less budget allocation to make a good go of it.
But, despite its relative ease compared to more technical influencer marketing strategies, time and time again brands have questions about the best practices needed to see positive results from their product placement campaign.
In this post, you'll learn:
What influencer seeding is

How to make the most out of your product placement campaigns (even if you don't have the biggest budget)

Why it's important to understand who you send your products to as much as who their audience is

Some examples of the best product seeding campaigns we've seen (#3 is our favourite).
Let's get started.
What is product seeding?
Product seeding is where brands gift their products to influencers relevant in their industry or niche. It's a great way for marketers to reach a wider, hyper-targeted group of potential customers without additional upfront costs like traditional influencer marketing.
When you seed your products, send them to people you think would not only appreciate the gift, but has an audience with similar interests. The point being, if you're running a vegan, ethical make up brand, you'd try to find influencers who have an interest in animal-free vegan makeup and an audience to match that as well.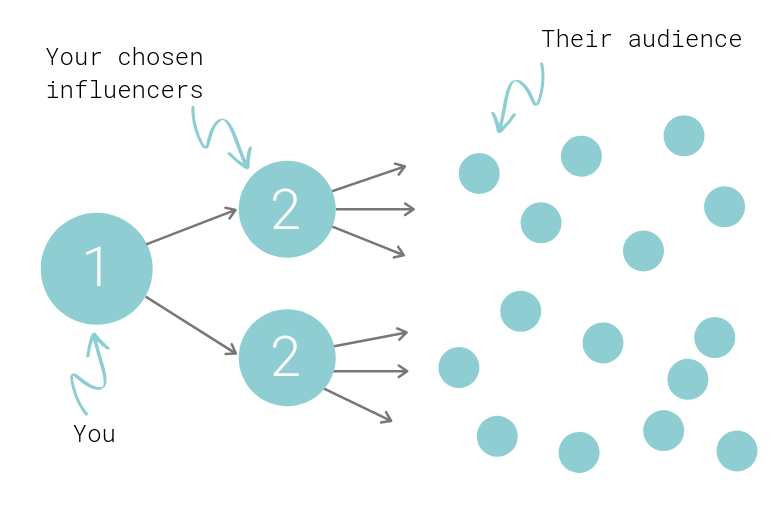 Once you've researched your potential influencers, it's time to start working out the perfect product to send out to them.
Product seeding is a type of word-of-mouth marketing whereby the more people who hear about your product, the more traction it gains. As you share it with more influencers and they share it with their audience, you begin to generate consistent interest in your products, without additional marketing spend.
Will product seeding work for my brand?
You want your products to appear naturally within an influencer's content. Many brands opt for a product seeding strategy because it's cheaper and less time-consuming to run and manage.
But the issue is, it just doesn't work for all brands. A good product seed image or post should fall seamlessly in the influencers feed not being obvious that the influencer is working with the brand — because, here's the kicker, they're not.
Influencers naturally like to share the things they enjoy, even if they're not being paid for it. So when you find the right influencer to send your products to, they're much more likely to talk about that openly with their audience.
Product placement seeding strategy?
Your product placement strategy can be defined in whatever way works best for your brand. You might try to send your products directly to the influencers themselves in the hope they'll share with their followers without prior prompting.
Alternatively you could gift celebrities specific products through their stylists or offering your products with goody bags at events that match your niche. For example, offer your new makeup brush for everyone who attends a specific fashion week event. But, influencers attending fashion week are likely to receive a multitude of gifts from each event – how do you ensure yours stands out?
How many influencers should I send my product to?
The answer really varies on what you hope to achieve with product seeding. Naturally, the more people you send your #gifted products to, the higher your potential reach will be.
You could send one product to one influencer who loves it so much they decide to talk about it all the time and as a result you generate tonnes of interest.
But equally, you could opt for a blanket approach and spread it far and wide by sending it to as many influencers as possible.
Should I allocate budget for this?
There's confusion when it comes to product seeding. On the surface, it looks like a strategy anyone can use to gain extra interest for their products at a low cost. But when put into practice, it's often only the larger brands (with bigger budget) who see any success with this influencer marketing tactic.
Editors Note: If you're a small brand or startup worried about how to effectively make your influencer marketing budget stretch, why not check out our Brand Catalogue – where influencers reach out to you to collaborate on your campaigns. It's free to create your campaign and some brands have received interest from influencers in less than 24 hours. A perfect solution for your upcoming product seeding campaign.
But, if you get your strategy right from the beginning, the only cost to you should be paying for are the products you plan to send, as well as any shipping costs you might incur. Further to the initial payment, when it comes to the timeframe you can expect to see ROI, there is usually no fixed timeframe, unfortunately.
And it makes sense. First, you're not guaranteed placement and second, you don't know what content schedule the particular influencer has. With any word of mouth campaign, the time frame varies from campaign to campaign but usually you should expect to see some sort of results or coverage from a few weeks, anywhere up to a few months.
If your gifting marketing strategy doesn't seem to be working as effectively as it could be, consider changing the types of influencers you hope to work with and make sure their audience is inline with your products.
Product seeding tips
Before you get started with your strategy, it's helpful to understand some of the pitfalls many brands just like you fall into but more importantly, how they handle them.
Don't forget about packaging
From the moment your parcel arrives at influencer's door, the marketing begins. If they don't yet know about you, every second is a moment for them to form an opinion of your brand and your product.
That's why making sure your packaging is perfect is super important.
Influencers, for the most part, care about how aesthetically pleasing their images are. If your products don't fit with their aesthetic, it's unlikely they'll share or talk about your products.
In the example above, the influencer in question not only tagged the brand within the image, they also tagged them in the caption as well as using their brand name as a hashtag. The influencer also provided context as to how they used the products.
Note: Due to recent ASA guideline changes, influencers have to declare when they receive a product from a brand, even if the influencer was gifted the product.
Before you order 1000 units of your own product to anyone you can think of, it's important to first think about the type of people you want to send your product to, but more importantly the type of audience they have.
This influencer, for example, has a heavy travel focus. Almost all her photos are outside, in a beautiful location, in a different part of the world.
Suppose you sent this influencer some new shampoo. No matter how good that shampoo was, it's unlikely she'd post a photo of it on her Instagram feed. Not only that, but her audience would immediately know this image doesn't fit with her normal style.
Product seeding strategy examples from winning brands
#Brand one – used social listening to increase their chance of a placement
Social listening is an incredible way to find out what people are talking about your brand, your products or even just your industry. You get a sneak peek into how they feel about the products they already use, even if those aren't yours.
When you couple a social listening strategy with a product seeing strategy you're able to make better informed decisions as to who you send your products to.
If an influencer has chosen to talk about an issue, or a product online, chances are they enjoy using it.
So when you send them the perfect product for their needs, the chance of them thanking you publicly and sharing it with their audience increases.
As you can see, this influencer regularly posts photos of the books she's reading. Coupled with that, is a range of different mugs within her photos. So when the Quirky Cup Collective gifted her a new mug, it goes without saying that the likelihood of her posting a photo featuring the mug increases. This influencer also tagged the photo within her post to her massive 133,000 Instagram followers.
#Brand two – personalisation
We've already mentioned that the reason some product seeding campaigns aren't as effective as one would hope is because of the amount of gifted products influencers receive every day. So in order to improve your results, you really need to go the extra mile and stand out with personalisation.
When this influencer received her book, she didn't just get the book in the post, she also received a handwritten personal note. Going the extra mile shows you appreciate them as a person and not just the amount of influence they have.
#Brand three: Keep it subtle
One key tactic with product seeding is to keep it as subtle as possible. Ideally, you want the influencer to speak about your product without it coming across like an advertisement, and should fit seamlessly in their feed. In this product gifting campaign, the influencer is wearing the product and tags the brand in the post, but the content is directly to do with the brand in general.
#Brand FOUR Use product seeding to generate reviewS
The aim of product seeding should be to generate buzz and potential sales for your products. 
In the example above, Pixi beauty gifted this user the cleanser. Instead of just blindly posting about the product without actually using it, the influencer states their review will be on their stories. So not only does the brand receive a feature within their Instagram feed, they also get a full review on their stories too.
#Brand FOUR: know your audience
When you know your audience, you have a much higher chance of gifting them the type of products they'll not only enjoy but be happy to wax lyrical about. 
This influencer cares about the environment – you can tell that from a quick scroll through her feed. 
So sending this reusable cup shows that you've viewed their content and understand the type of things they like.
#Brand FIVE: fit in with their aesthetic
There's no point sending a colourful bag to someone whose Insta-feed is full of black and white photos.
If the products you send don't fit the aesthetic of the personal brand they've created, they simply won't talk about your products.
So when TucTuc tea sent their product to this influencer, they knew, because of their sweeth tooth, that the influencer in question was likely to post a photo of the product among other sugary items.
#Brand SIX: Don't be afraid to go above and beyond
Some brands think that when you gift a product you should just pick your cheapest item to save money. While this is a cost-effective route for many to take, you shouldn't be scared to show your appreciation by offering up some of your more expensive items as gifts.